WANDERLOST
by BEN OLSON 
WANDERLOST is a fast journey through American culture as told by Max Manchester - a 25-year-old anti-hero in search of the soul and substance he feels lacking in his generation.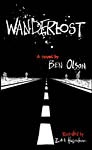 Fed up with his pseudo-intellectual friends, with crass culture run amuck, and the world defined by catch-phrase ideology and morally bankrupt politicians, Max escapes. He leaves it all behind to embark on a month-long trek around America by train, with nothing but a pack on his back and the desire to see something real. 
Filled with spontaneous prose and wild adventures, Wanderlost captures the essence of the strange period of life after college and before adulthood; when idealism is still a good thing, when one must choose to embrace a mediocre world of mundane existence, or burn free and live according to the principles of our hearts.
Wanderlost is a coming-of-age tale, a humorous travel narrative, and a hauntingly accurate portrayal of American Life as seen from the eyes of a member of a Non-Generation that is lost inside the memory of a world that exists outside the spin.
Softcover: $13.95
USA Orders:
$6/copy Shipping


---

International Orders
Add $10/order
   Non-generation author Ben Olson's book "Wonderlost" is signed by ...  Non-generation author Ben Olson's book 'Wonderlost' is signed by ... Disclaimer: Issuers of the press releases are solely responsible for the content of ...
www.prlog.org/10004855-non-generation-author-ben-olson-book-wonderlost-is-signed-by-alpharpublish-co... - 25k - Cached - Similar pages - Note this
City Lights bookstore, S.F. has advance copies of Alphar ...  "WANDERLOST" by non-generation author BEN OLSON is a fast journey across ... Disclaimer: Issuers of the press releases are solely responsible for the ...
www.prlog.org/10005752-city-lights-bookstore-has-advance-copies-of-alphar-publishing-new-novels.html - 29k - Cached - Similar pages - Note this
More results from www.prlog.org »
Booksmith Bookstore Holding Alphar Publishing's New Releases ...  "Wanderlost" by non-generation author Ben Olson is a fast journey across on ... Click here to view the list of recent Press Releases from Alphar Publishing ...
www.pr.com/press-release/26245 - 21k - Cached - Similar pages - Note this
 Non-generation author Ben Olson's book "Wonderlost" is signed by AlpharPublish.com ...Defund war.
Non-Generation" is a fast journey across America on the rails. Intelligent, blunt, journalistic-type fiction which records what happens beneath the cracks.
 
FOR IMMEDIATE RELEASE
PRLog (Press Release) – Dec 11, 2006 – San Francisco, December 11, 2006 "Wanderlost, The Curse of the Non-Generation" is a fast journey across America on the rails. Intelligent, blunt, journalistic-type fiction which records what happens beneath the cracks. . . . "It was winter and I was sliding down, down into the decline of my middle twenties – lost in an endless cycle of high and wild nights, jaded dreams and terrible booze shits in between. The nights filled with faux hipsters screaming poetry in piano bars, jocks, thugs and meatheads on the prowl for cheap sex . . . Like unwilling cogs in the vast machine, we chased the end of the night like we chased our own immortality" Ben Olson says it is a backlash to this dumb culture taken over by a crassness of people who are all passionately apathetic. Ben is only 25 years old and has already had a couple dozen articles published in weekly newspapers and some literary journals. Ben is a prophet howling at the American landscape. In the same vein as Jack Kerouac and Hunter S. Thompson, here is a voice destined for significance in American literature.
Project Director: Anthony Chaytor, 646-9123515. EMAIL: alphar@xtra.co.nz www.alpharpublish.com


 www.prlog.org/10004855-non-generation-author-ben-olson-book-wonderlost-is-signed-by-alpharpublish-co